opis:

4Sessions v2.3
Shows 4 sessions: Pacific, Asian, European, American.Postavke:

Winter=2

(

UTC+2=EET

)

Summer=3

(

UTC+3=EET

)
The difference between the mt server's timezone and UTC. By default the mt server's timezone is EET (UTC+2=EET (winter), UTC+3=EET (summer). You'll have to change the settings depending on your broker's time. E.g. if it's CET you'll have to set:
Winter=1

(

UTC+1=CET

)

Summer=2

(

UTC+2=CET

)
The indicator automatically adjusts itself for DST.

AsiaDesc = "Asia"; Session name
AsiaColor = Aqua; Session color
AsiaOpen = "00:00"; Session open time(UTC timezone)
AsiaClose = "09:00"; Session close time(UTC timezone)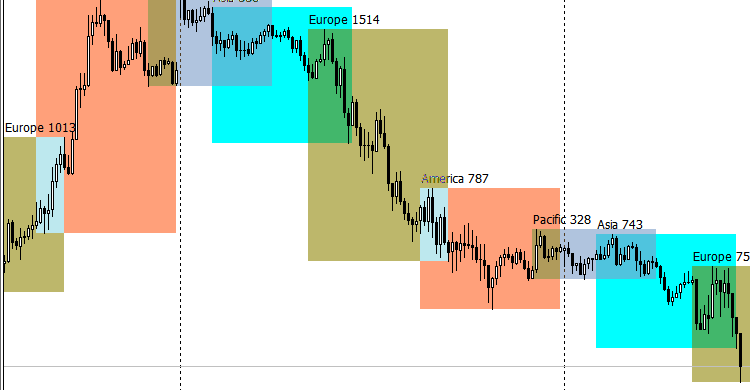 MT4 pokazatelji – Preuzmite uputstvo
4
Sessions is a Metatrader
4 (MT4) Indikator a suština indikator forex je transformacija karton podataka povijesti. 4
Sessions provides for an opportunity to detect various peculiarities and patterns in price dynamics which are invisible to the naked eye
.
Na osnovu ovih informacija, trgovci može se pretpostaviti daljnje kretanje cijena i prilagoditi svoju strategiju u skladu s tim.
Kako instalirati 4 Sessions.mq4?
Skinuti 4

Sessions.mq4

kopija 4

Sessions.mq4 to your Metatrader Directory

/ stručnjaci / pokazatelji /
Pokrenite ili ponovo pokrenite Metatrader Client
Odaberite Chart i rok gdje želite testirati svoje pokazatelj
Pretraživanje "Custom Pokazatelji" u svojoj Navigator najviše ostalo u vašem Metatrader Client
Desni klik na 4

Sessions.mq4

Pričvrstite na grafikon
Promijenite postavke ili pritisnite OK
pokazatelj 4

Sessions.mq4 is available on your Chart
Kako ukloniti 4 Sessions.mq4 from your Metatrader 4 Grafikon?
Odaberite Chart gdje je pokazatelj programa na vašem Metatrader Client
Desni klik u Chart
"Indikatori list"
Odaberite Indikator i brisanje
MT4 pokazatelji Preuzimanje ispod: