rigtig forfatter:
TrendLaboratory
Den Dots Indikatoren er baseret på en indikator udviklet af TrendLaboratory i 2006. The indicator shows current trend direction by placing colored dots on the main chart. Blue dots indicate an uptrend, red dots indicate a downtrend.
Although the indicator calculation is not based on standard MetaTrader platform indicators, it uses the iMA (glidende gennemsnit) function to get prices of a specified type (Åben, Tæt, Maximum, Minimum, Typical etc.). The calculation is based on cosine of a price change angle. The user can set several input parameters.
Input Parametre:
Length

(som standard = 10)

— indicator period

.

The higher this value

,

the higher the time lag

,

and the fewer false signals are displayed

.

AppliedPrice

(

by default = PRICE_CLOSE

)

— price type to use in calculations

.

Filter

(som standard = 0)

— useful parameter allowing to filter price surges without adding display lags

.
Afvigelse (som standard = 0)

— vertical indicator shift

.
Flytte (som standard = 0)

— horizontal indicator shift

.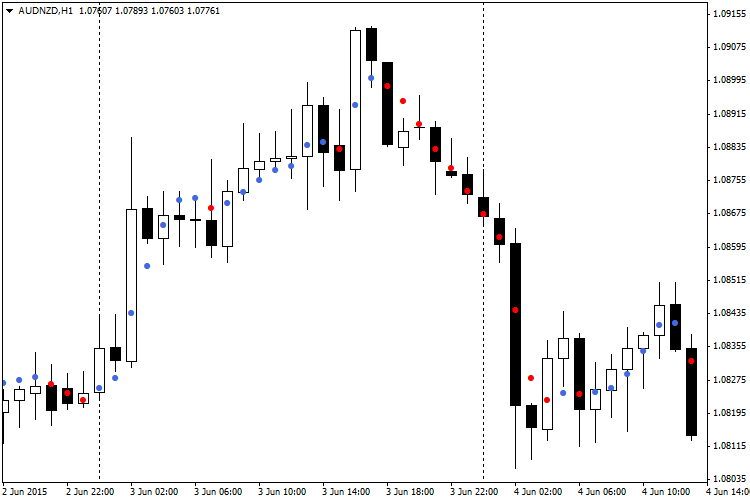 anbefalinger:
Recommended strategy is to wait for

2

identical dots and open positions by trend

.

Unfortunately

,

sometimes it fails

.

A suitable alternative would be to use one dot as a signal with Filter parameter set as Spread x

3.
MT4 Indikatorer – Download instruktioner
Dots is a Metatrader
4 (MT4) indikator og essensen af ​​forex indikator er at omdanne den akkumulerede historie data.
Dots provides for an opportunity to detect various peculiarities and patterns in price dynamics which are invisible to the naked eye
.
Baseret på denne information, erhvervsdrivende kan antage yderligere prisbevægelser og justere deres strategi i overensstemmelse hermed.
How to install Dots.mq4?
Download Dots.mq4

Copy Dots.mq4 to your Metatrader Directory

/ eksperter / indikatorer /
Start eller genstart din Metatrader Client
Vælg Chart og Tidsramme hvor du ønsker at teste din indikator
Søg "Tilpassede Indikatorer" i din Navigator meste tilbage i din Metatrader Client

Right click on Dots.mq4

Vedhæft et diagram
Rediger indstillinger eller tryk på ok

Indicator Dots.mq4 is available on your Chart
How to remove Dots.mq4 from your Metatrader 4 Chart?
Vælg diagrammet hvor indikatoren kører i din MetaTrader Client
Højreklik i Chart
"Indikatorer liste"
Vælg indikator og slet
MT4 Indikatorer Hent nedenfor: