autor: Raff
Indicator Trix is used in determining of the overbought/oversold market conditions. You can also use it as an impulse indicator. Like in other oscillators, the values of Trix range near zero. When Trix is used as an oscillator, a positive value says for the overbought market, whereas a negative values testifies the oversold market.
When Trix is used as an impulse indicator, a positive value means that the impulse is growing, whereas a negative value will testify a sinking impulse.
Many analysts suppose it to be a signal to buy, if Trix intersects zero value from top to bottom, whereas the intersection of it from bottom to top is considered as a signal to sell. If there is a divergence between the price and indicator line, this informs about a turning point in the market trend.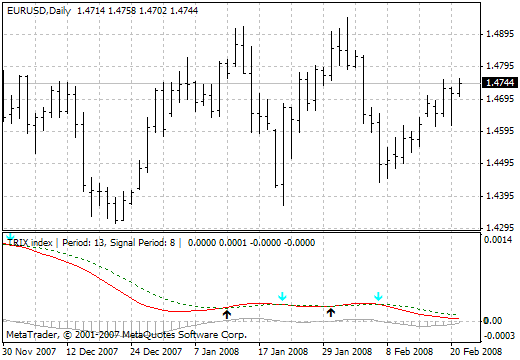 | Input | Type | Default value | descrición |
| --- | --- | --- | --- |
| Price | Number | preto | Price type for calculations |
| Length | Number | 18 | Amount of bars for calculations |
Trix calculates the triple exponential moving average from the logarithmic price defined by the parameter Price for the period defined by the parameter Length. In calculations, the value of the current bar is subtracted from the value of the preceding bar – this excludes cycles, the length of which is smaller than the value of the parameter Length.
Two main advantages of Trix as compared to other trend-following indicators is its ability to filter market noises and its quicker response to the market situation. Using the triple exponential moving average, Trix filters market noises and excludes short-term cycles that may inform about changes in movements on the market. If you use Trix as your main indicator, it would be recommended to use it together with other indicators in order to prevent following false signals.
exemplo: In order to assign the value of indicator TRIX to a variable for High price of 14 bares, you should use the following code: Var1 = TRIX(alto,14);
MT4 Indicadores – Instrucións para descargar
Trix
– indicador é un Metatrader 4 (MT4) indicador e a esencia do indicador forex é converter os datos do histórico acumulado.
Trix
– indicador ofrece unha oportunidade para detectar varias peculiaridades e normas en dinámica dos prezos que son invisibles a simple vista.
Derivada información, os comerciantes poden asumir aínda máis o movemento dos prezos e axustar a súa estratexia nese sentido.
How to install Trix – indicator.mq4?
Download Trix

– indicator.mq4

Copy Trix

– indicator.mq4 ao seu Directorio Metatrader / expertos / indicadores /
Iniciar ou reiniciar o cliente Metatrader
Select Chart e calendario onde quere probar o seu indicador
Busca "Indicadores Personalizados" no seu Navigator principalmente á esquerda no seu cliente Metatrader

Right click on Trix

– indicator.mq4
Achegar a un gráfico
Modificar a configuración ou prema Aceptar

Indicator Trix

– indicator.mq4 está dispoñible no seu gráfico
How to remove Trix – indicator.mq4 do seu Metatrader 4 Gráfico?
Seleccione gráfico onde é o indicador que funciona no seu cliente Metatrader
Botón dereito do rato no Gráfico
"Lista de indicadores"
Seleccione indicador e eliminar
MT4 Indicadores Baixo abaixo: