virkelige forfatteren:
TrendLaboratory
The Dots indicator is based on an indicator developed by TrendLaboratory in 2006. The indicator shows current trend direction by placing colored dots on the main chart. Blue dots indicate an uptrend, red dots indicate a downtrend.
Although the indicator calculation is not based on standard MetaTrader platform indicators, it uses the iMA (Glidende gjennomsnitt) function to get prices of a specified type (Open, Lukk, Maximum, Minimum, Typical etc.). The calculation is based on cosine of a price change angle. The user can set several input parameters.
inndataparametre:
Length

(som standard = 10)

— indicator period

.

The higher this value

,

the higher the time lag

,

and the fewer false signals are displayed

.

AppliedPrice

(

by default = PRICE_CLOSE

)

— price type to use in calculations

.

Filter

(som standard = 0)

— useful parameter allowing to filter price surges without adding display lags

.
Avvik (som standard = 0)

— vertical indicator shift

.
Skifte (som standard = 0)

— horizontal indicator shift

.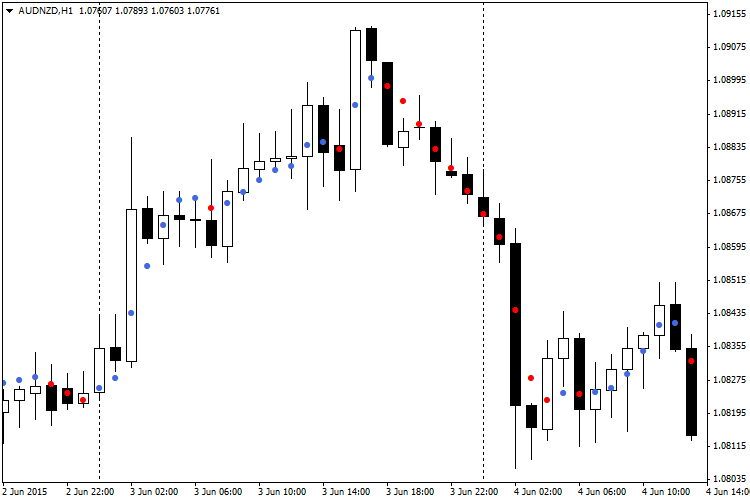 anbefalinger:
Recommended strategy is to wait for

2

identical dots and open positions by trend

.

Unfortunately

,

sometimes it fails

.

A suitable alternative would be to use one dot as a signal with Filter parameter set as Spread x

3.
MT4 Indikatorer – Instruksjoner for nedlasting
Dots is a Metatrader
4 (MT4) indikator og essensen av forex indikatoren er å forvandle den akkumulerte historie data.
Dots provides for an opportunity to detect various peculiarities and patterns in price dynamics which are invisible to the naked eye
.
Basert på denne informasjonen, tradere kan anta ytterligere bevegelse pris og justere sin strategi deretter.
How to install Dots.mq4?
Download Dots.mq4

Copy Dots.mq4 to your Metatrader Directory

/ eksperter / indikatorer /
Starter eller omstarter Metatrader Client
Velg Kart og Tidsramme hvor du vil teste din indikator
Søk "Tilpassede Indikatorer" i Navigator stort sett igjen i Metatrader Client

Right click on Dots.mq4

Fest til et diagram
Endre innstillinger eller trykk ok

Indicator Dots.mq4 is available on your Chart
How to remove Dots.mq4 from your Metatrader 4 Chart?
Velg Chart hvor ligger Indikator kjører i Metatrader Client
Høyreklikk i Diagram
"Indikatorer liste"
Velg Indicator og slett
MT4 Indikatorer Download nedenfor: