Author:
Thank you for reading this post, don't forget to subscribe!
I am not aware of other similar type of chart. However, please let me know if I am infringing on someone else work.
I wanted to find out if there was useful information to be displayed from the London open to the New York Close.

It is made of 3 candles per trading day:

– London Open to New York Open
– New York Open to London Close (Power hours)
– London Close to New York Close
I also added a "funny" number to offset the chart itself. See below. Any suggestions welcome.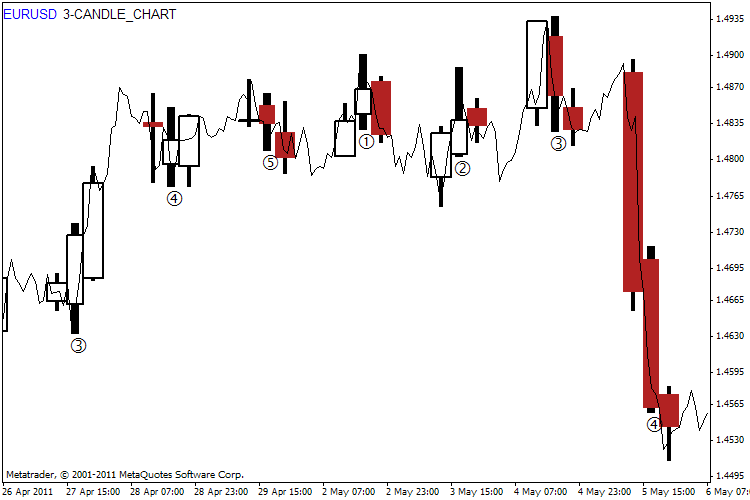 Recommendations:
Works only on 1 hour timeframe
Timeoffset variable is the offset (in hours) between GMT and your MT4 Broker's time
SBnumber variable is a funny number used to offset the whole group of candlesticks. It gives sometime surprising results.
Displays better on a line chart
MT4 Indicators – Download Instructions
[post-title] is a Metatrader 4 (MT4) indicator and the essence of the forex indicator is to transform the accumulated history data.
[post-title] provides for an opportunity to detect various peculiarities and patterns in price dynamics which are invisible to the naked eye.
Based on this information, traders can assume further price movement and adjust their strategy accordingly.
How to install [post-title].mq4?
Download [post-title].mq4
Copy [post-title].mq4 to your Metatrader Directory / experts / indicators /
Start or restart your Metatrader Client
Select Chart and Timeframe where you want to test your indicator
Search "Custom Indicators" in your Navigator mostly left in your Metatrader Client
Right click on [post-title].mq4
Attach to a chart
Modify settings or press ok
Indicator [post-title].mq4 is available on your Chart
How to remove [post-title].mq4 from your Metatrader 4 Chart?
Select the Chart where is the Indicator running in your Metatrader Client
Right click into the Chart
"Indicators list"
Select the Indicator and delete
MT4 Indicators Download below: