It appeared occasionally, in a manner of speaking, it is a byproduct. The basis of it is the position of the NavelSMA moving in relation to two SMA movings drawn by the HIGHs and LOWs of the bars. I usually use the NavelXXX movings instead of the standard ones by Close, because I has added all four parameters (O, H, L, C) in their calculation, they're are slightly smoother and they "rattle" less on the zero bar.
Thank you for reading this post, don't forget to subscribe!
I was very surprised when obtained the picture. If you want to experience the same place the BO and AO one below the other on a single window. It turns out that "all roads lead to Rome"? I didn't try to find out what is better, what is worse and what is the difference, it's been born so may it live.
Compile both files, NavelSMA is called through the BO via the iCustom().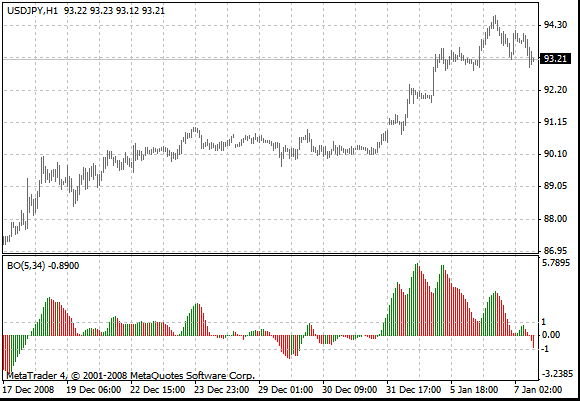 MT4 Indicators – Download Instructions
BO – indicator is a Metatrader 4 (MT4) indicator and the essence of the forex indicator is to transform the accumulated history data.
BO – indicator provides for an opportunity to detect various peculiarities and patterns in price dynamics which are invisible to the naked eye.
Based on this information, traders can assume further price movement and adjust their strategy accordingly.
How to install BO – indicator.mq4?
Download BO – indicator.mq4
Copy BO – indicator.mq4 to your Metatrader Directory / experts / indicators /
Start or restart your Metatrader Client
Select Chart and Timeframe where you want to test your indicator
Search "Custom Indicators" in your Navigator mostly left in your Metatrader Client
Right click on BO – indicator.mq4
Attach to a chart
Modify settings or press ok
Indicator BO – indicator.mq4 is available on your Chart
How to remove BO – indicator.mq4 from your Metatrader 4 Chart?
Select the Chart where is the Indicator running in your Metatrader Client
Right click into the Chart
"Indicators list"
Select the Indicator and delete
MT4 Indicators Download below: