DMI oscillator version of dsl (discontinued signal lines) family of indicators.
Thank you for reading this post, don't forget to subscribe!
DMI short description ‌(since it is not widely known).
DMI OSCILLATOR
Within the suite of indicators that make up Wilder's directional movement index (DMI) are the plus directional movement indicator (+DI) and the minus directional movement indicator (-DI). They provide the foundation for the more widely recognized average directional index (ADX). Whereas the ADX offers information about the strength of price movement but not its direction, the +DI and -DI furnish information about the positive or negative direction of price movement over a period of time.
Wilder provides complete information about the function and construction of all the components that make up the directional movement index in his 1978 book, New Concepts In Technical Trading Systems. In general, the plus and minus components of the DMI focus on that portion of the current bar's trading range that is outside the range of the previous price bar. If it is higher, it is considered to be positive (+) and if it is lower, it is labeled negative (-). These values are divided by the true range and averaged over time, usually 14 periods. A move by the +DI above the -DI indicates that positive or upward price direction has overtaken negative or downward price direction. Conversely, when +DI falls below -DI, declining price either from selling pressure or lack of upward price momentum is taking control. Potential changes in direction or trend occur when the lines intersect.
‌As with all the dsl indicators, it can be used both in trend and counter trend trading, but the dsl in this case can add to momentum strength estimation too.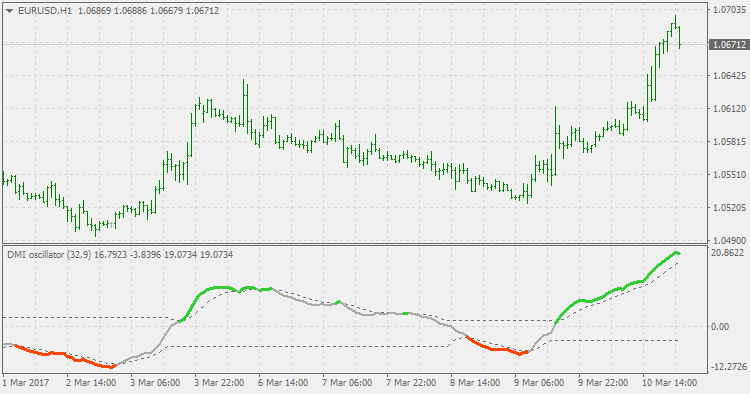 ‌
MT4 Indicators – Download Instructions
Dsl – DMI oscillator is a Metatrader 4 (MT4) indicator and the essence of the forex indicator is to transform the accumulated history data.Subway provides for an opportunity to detect various peculiarities and patterns in price dynamics which are invisible to the naked eye.
Based on this information, traders can assume further price movement and adjust their strategy accordingly.
How to install the software?
Download the mq4 file from the zip file.
Copy the mq4 file to your Metatrader Directory / experts / indicators /
Start or restart your Metatrader Client
Select Chart and Timeframe where you want to test your indicator
Search "Custom Indicators" in your Navigator mostly left in your Metatrader Client
Right click on the mq4 file.
Attach to a chart
Modify settings or press ok
Indicator should be available on your Chart
How to remove tim.mq4 from your Metatrader 4 Chart?
Select the Chart where is the Indicator running in your Metatrader Client
Right click into the Chart
"Indicators list"
Select the Indicator and delete
MT4 Indicators Download below: