Real author:
TrendLaboratory
The Dots indicator is based on an indicator developed by TrendLaboratory in 2006. The indicator shows current trend direction by placing colored dots on the main chart. Blue dots indicate an uptrend, red dots indicate a downtrend.
Although the indicator calculation is not based on standard MetaTrader platform indicators, it uses the iMA (movanta Averaĝa) function to get prices of a specified type (Open, Fermi, Maximum, Minimum, Typical etc.). The calculation is based on cosine of a price change angle. The user can set several input parameters.
Eniro Parametroj:
Length

(defaŭlte = 10)

— indicator period

.

The higher this value

,

the higher the time lag

,

and the fewer false signals are displayed

.

AppliedPrice

(

by default = PRICE_CLOSE

)

— price type to use in calculations

.

Filter

(defaŭlte = 0)

— useful parameter allowing to filter price surges without adding display lags

.
devio (defaŭlte = 0)

— vertical indicator shift

.
Shift (defaŭlte = 0)

— horizontal indicator shift

.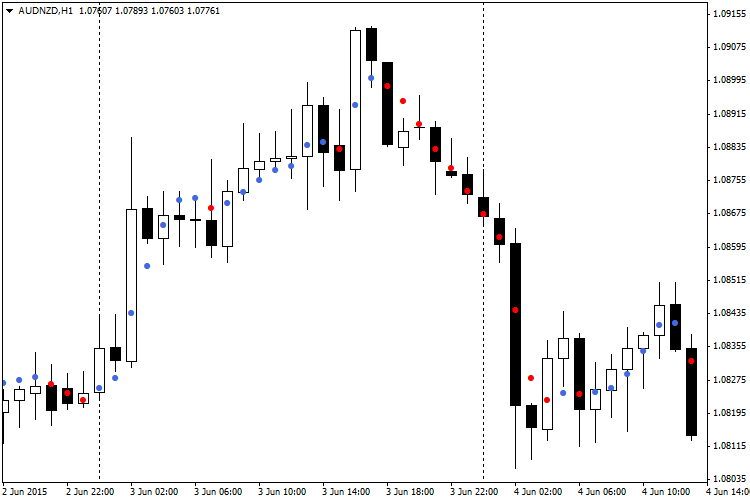 rekomendoj:
Recommended strategy is to wait for

2

identical dots and open positions by trend

.

Unfortunately

,

sometimes it fails

.

A suitable alternative would be to use one dot as a signal with Filter parameter set as Spread x

3.
MT4 Indikiloj – Deŝutaj Instruoj
Dots is a Metatrader
4 (MT4) indikilo kaj la esenco de la forex indikilo estas transformi la amasigita historian datumon.
Dots provides for an opportunity to detect various peculiarities and patterns in price dynamics which are invisible to the naked eye
.
Bazita sur ĉi tiu informo, Negocistoj povas supozi pli foran prezan movadon kaj ŝanĝi ilian strategion sekve.
How to install Dots.mq4?
Download Dots.mq4

Copy Dots.mq4 to your Metatrader Directory

/ Fakuloj / Indikiloj /
Komenco aŭ rekomenci via Metatrader Kliento
elektita Mapo kaj Timeframe kie vi deziras elprovi vian indikilon
Serĉo "Laŭmendaj Indikiloj" En via Navigisto plejparte lasita en via Metatrader Kliento

Right click on Dots.mq4

Alligi al mapo
Modifi fiksojn aŭ gazetaro bone

Indicator Dots.mq4 is available on your Chart
How to remove Dots.mq4 from your Metatrader 4 Mapo?
Elekti la Mapon kie estas la Indikila kurado en via Metatrader Kliento
Ĝusta klako en la Mapo
"Indikila listo"
Elekti la Indikilon kaj forigi
MT4 Indikiloj Elŝutas malsupre: