description:

4Sessions v2.3
Shows 4 zaman: Pacific, Asiya, Turai, American.Saituna:

Hunturu = 2 (UTC + 2 = Cin)

Summer=3

(

UTC+3=EET

)
The difference between the mt server's timezone and UTC. By default the mt server's timezone is EET (UTC + 2 = Cin (winter), UTC+3=EET (summer). You'll have to change the settings depending on your broker's time. E.g. if it's CET you'll have to set:
Winter=1

(

UTC+1=CET

)

Summer=2

(

UTC+2=CET

)
The indicator automatically adjusts itself for DST.

AsiaDesc = "Asia"; Session name
AsiaColor = Aqua; Session color
AsiaOpen = "00:00"; Session open time(UTC timezone)
AsiaClose = "09:00"; Session close time(UTC timezone)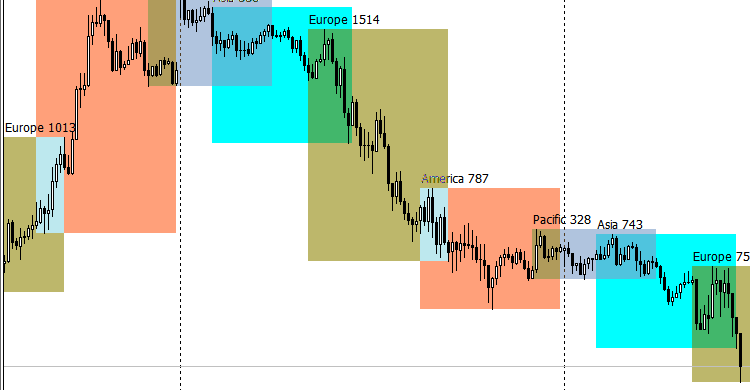 MT4 Manuniya – Download Umarnin
4
Sessions is a Metatrader
4 (MT4) nuna alama da jigon da forex nuna alama shi ne ya canza da tara tarihin bayanai. 4
Sessions provides for an opportunity to detect various peculiarities and patterns in price dynamics which are invisible to the naked eye
.
Bisa ga wannan bayani, yan kasuwa na iya zaton kara farashin motsi da kuma daidaita su dabarun daidai da.
Yadda za a kafa 4 Sessions.mq4?
download 4

Sessions.mq4

Kwafi 4

Sessions.mq4 to your Metatrader Directory

/ masana / Manuniya /
Fara ko zata sake farawa da Metatrader Client
Zaži Chart kuma isa kasashen Turai, inda kana so ka gwada ka nuna alama
Bincike "Custom Manuniya" a cikin Navigator mafi yawa bar a cikin Metatrader Client
Dama danna kan 4

Sessions.mq4

Hašawa zuwa ginshiƙi
Gyara saituna ko latsa lafiya
nuna alama 4

Sessions.mq4 is available on your Chart
Yadda za a cire 4 Sessions.mq4 from your Metatrader 4 Ginshiƙi?
Zaži Chart inda ne nuna alama a guje cikin Metatrader Client
Dama danna cikin Chart
"Manuniya jerin"
Select da nuna alama kuma share
MT4 Manuniya Download kasa: