The Momentum Technical Indicator measures the change of price of a financial instrument over a given time span.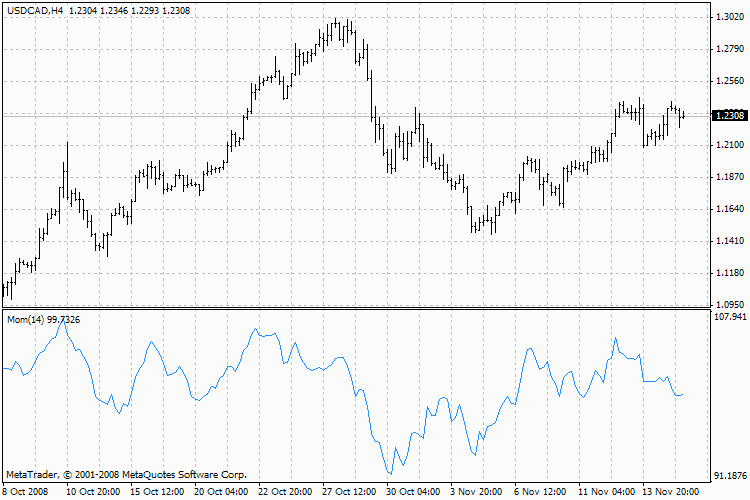 Momentum

There are basically two ways to use the Momentum indicator:

As a trend-following indicator similar to the Moving Average Convergence/Divergence

(

MACD

) vísir.

In this case a signal to buy occurs if the Momentum indicator makes up a trough and starts rising

;

a signal to sell occurs when it reaches peak and turns down

.

You may want to plot a short-term moving average of the indicator to determine when it is bottoming or peaking

.

Extremely high or low values of Momentum imply continuation of the current trend

.

Thus if the indicator reaches extremely high values and then turns down

,

the further price growth should be expected

.

In any case

,

a position should be opened or closed only after prices confirm the signal generated by the indicator

.


As a leading indicator

.

This method assumes that the final phase of an up-trend is usually accompanied by a rapid price increase

(

when everyone expects prices to go higher

),

and that the end of bears

'

market is characterized by rapid price declines

(

when everyone wants to get out

).

This is often the case

,

but it is also a broad generalization

.

When market approaches a peak there is a sharp leap of the Momentum indicator

.

After that it starts to fall while prices keep on growing or move horizontally

.

Analogous to that

,

at the market bottom Momentum sharply falls and then turns up long before prices start growing

.

Both of these situations result in divergences between the indicator and prices

.

Útreikningur

Momentum is calculated as a ratio of today's price to the price n periods ago:

MOMENTUM = CLOSE (ég) / CLOSE (ég – n) * 100

Hvar:
CLOSE (ég) — the close price of the current bar;
CLOSE (ég – n) — the close price n bars ago.
Description of the technical indicator
The full description of the Momentum is available in theTechnical analysis: Momentum section

MT4 Vísar – Sækja Leiðbeiningar
Momentum is a Metatrader
4 (MT4) vísir og kjarninn í fremri vísir er að umbreyta í uppsöfnuðum sögu gögn.
Momentum provides for an opportunity to detect various peculiarities and patterns in price dynamics which are invisible to the naked eye
.
Byggt á þessum upplýsingum, kaupmenn geta gera ráð fyrir frekari verð hreyfingu og stilla stefnu sína í samræmi.
How to install Momentum.mq4?
Download Momentum.mq4

Copy Momentum.mq4 to your Metatrader Directory

/ sérfræðingar / vísar /
Byrja eða endurræsa Metatrader Viðskiptavinur þinn
Veldu mynd og Tímarammi þar sem þú vilt prófa vísir þína
Leita "Custom Vísar" í Navigator þinn mestu eftir í MetaTrader viðskiptavinar

Right click on Momentum.mq4

Hengja við töflu
Breyta stillingum eða ýttu á OK

Indicator Momentum.mq4 is available on your Chart
How to remove Momentum.mq4 from your Metatrader 4 Mynd?
Veldu mynd hvar er Vísir gangi í MetaTrader viðskiptavinar
Hægri smelltu í mynd
"Vísar lista"
Veldu Vísir og eyða
MT4 Vísar Sækja neðan: