Description:

4Sessions v2.3
Shows 4 sessions: Pacific, Asian, European, American.Optiones:

Winter=2

(

UTC+2=EET

)

Summer=3

(

UTC+3=EET

)
The difference between the mt server's timezone and UTC. By default the mt server's timezone is EET (UTC+2=EET (winter), UTC+3=EET (summer). You'll have to change the settings depending on your broker's time. E.g. if it's CET you'll have to set:
Winter=1

(

UTC+1=CET

)

Summer=2

(

UTC+2=CET

)
The indicator automatically adjusts itself for DST.

AsiaDesc = "Asia"; Session name
AsiaColor = Aqua; Session color
AsiaOpen = "00:00"; Session open time(UTC timezone)
AsiaClose = "09:00"; Session close time(UTC timezone)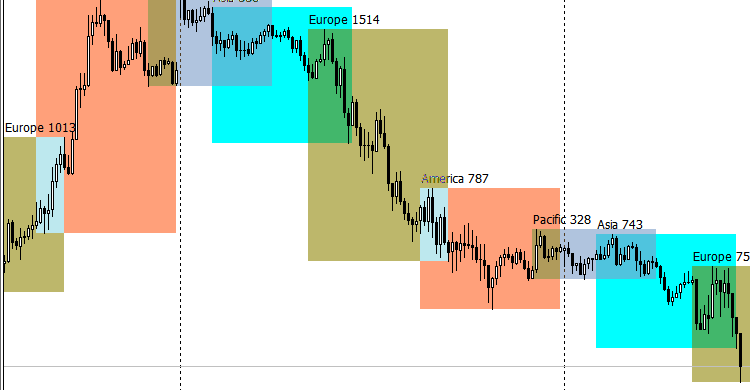 MT4 Indicators – Download Instructions
4
Sessions is a Metatrader
4 (MT4) et essentia est transformare signum forex indicator historiae notitia congesta. 4
Sessions provides for an opportunity to detect various peculiarities and patterns in price dynamics which are invisible to the naked eye
.
Fundatur in hoc notitia, adjust motus et mensuram velocitatis negotiatoribus adhuc consilio rem secundum pretium.
Quam ut install 4 Sessions.mq4?
download 4

Sessions.mq4

exemplum 4

Sessions.mq4 to your Metatrader Directory

/ peritorum / Indicatores /
Aut Start sileo vestri Metatrader Client
Select Chart et Timeframe ubi vis ut cognoscam experimentum vestrum indicator
Quaerere "Consuetudo Indicators" plerumque in Navigator remanserit in Metatrader Client
Optime! 4

Sessions.mq4

Suggero ut a chart
Temperare occasus aut press ok
Indicis 4

Sessions.mq4 is available on your Chart
Quam ad removendum 4 Sessions.mq4 from your Metatrader 4 Chart?
Lego Chart ubi est illud Indicis cursor in vestri Metatrader Client
Vox click in Chartam
"Indicatores album"
Lego quod delete Indicis
Download infra MT4 Indicators: