This indicator draws current pivot points, it does not plot history. Clean and simple.
Thank you for reading this post, don't forget to subscribe!
Choice of Standard, Fibonacci, Camarilla, Woody's and Demark pivot calculations.
Calculation is based on previous bar of chosen period.double xOpen=iOpen(0,inpPeriod,1);
double xClose= iClose(0,inpPeriod,1);
double xHigh = iHigh(0,inpPeriod,1);

double xLow= iLow(0,inpPeriod,1);
Default setting is H1, for scalping.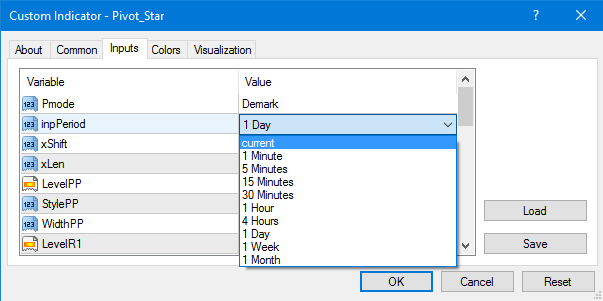 input int xShift = 3; // X-Axis Shift
input int xLen = 25; // Line Length
xShift positions pivot lines relative to the first bar (positive number shifts to the right).
xLen sets length of lines (by number of bars, in theory).
Two additional lines are drawn — Previous day's High and Low.
Every and each line can be set up to your liking: Color, Style, Thickness (set color to None to disable line).
Thicker lines are previous day's High/Low. Drawn only on lower than D1 time frames.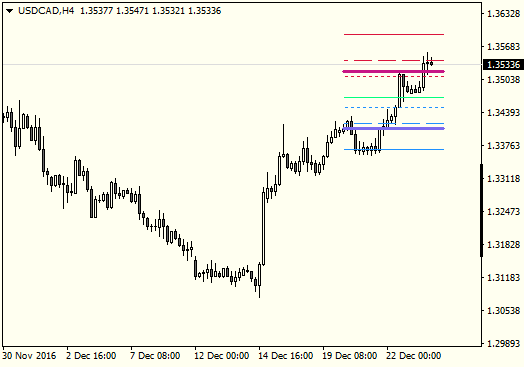 Camarilla Pivot includes L3, L4, L5, H3, H4, H5 lines. Other points are omitted as they're not really needed.
If viewing time frame is larger than indicator's set period, the lines are not drawn, otherwise they only obstruct.
MT4 Indicators – Download Instructions
Pivot Star – indicator is a Metatrader 4 (MT4) indicator and the essence of the forex indicator is to transform the accumulated history data.
Pivot Star – indicator provides for an opportunity to detect various peculiarities and patterns in price dynamics which are invisible to the naked eye.
Based on this information, traders can assume further price movement and adjust their strategy accordingly.
How to install Pivot Star – indicator.mq4?
Download Pivot Star – indicator.mq4
Copy Pivot Star – indicator.mq4 to your Metatrader Directory / experts / indicators /
Start or restart your Metatrader Client
Select Chart and Timeframe where you want to test your indicator
Search "Custom Indicators" in your Navigator mostly left in your Metatrader Client
Right click on Pivot Star – indicator.mq4
Attach to a chart
Modify settings or press ok
Indicator Pivot Star – indicator.mq4 is available on your Chart
How to remove Pivot Star – indicator.mq4 from your Metatrader 4 Chart?
Select the Chart where is the Indicator running in your Metatrader Client
Right click into the Chart
"Indicators list"
Select the Indicator and delete
MT4 Indicators Download below: