Real avtor:
TrendLaboratory
Kazalec Dots temelji na kazalcu s TrendLaboratory razvil v 2006. The indicator shows current trend direction by placing colored dots on the main chart. Blue dots indicate an uptrend, red dots indicate a downtrend.
Although the indicator calculation is not based on standard MetaTrader platform indicators, it uses the iMA (Moving Average) function to get prices of a specified type (Odprto, Zapri, največja, Minimum, Typical etc.). The calculation is based on cosine of a price change angle. The user can set several input parameters.
vhodni parametri:
Length

(s privzeto = 10)

— indicator period

.

The higher this value

,

the higher the time lag

,

and the fewer false signals are displayed

.

AppliedPrice

(

by default = PRICE_CLOSE

)

— price type to use in calculations

.

Filter

(s privzeto = 0)

— useful parameter allowing to filter price surges without adding display lags

.
odstopanje (s privzeto = 0)

— vertical indicator shift

.
Shift (s privzeto = 0)

— horizontal indicator shift

.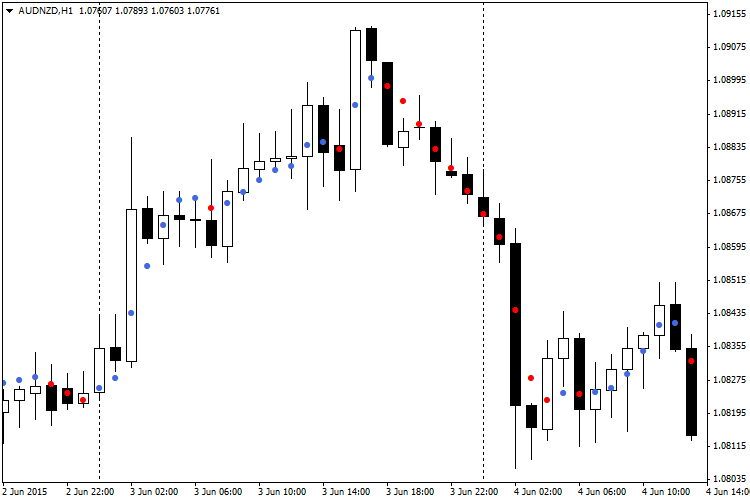 priporočila:
Recommended strategy is to wait for

2

identical dots and open positions by trend

.

Unfortunately

,

sometimes it fails

.

A suitable alternative would be to use one dot as a signal with Filter parameter set as Spread x

3.
MT4 Kazalniki – Download Navodila
Dots is a Metatrader
4 (MT4) Kazalec in bistvo kazalnika forex je preoblikovanje nakopičene zgodovino podatke.
Dots provides for an opportunity to detect various peculiarities and patterns in price dynamics which are invisible to the naked eye
.
Na podlagi teh informacij, trgovci lahko prevzamejo nadaljnje gibanje cen in ustrezno prilagoditi svojo strategijo.
How to install Dots.mq4?
Download Dots.mq4

Copy Dots.mq4 to your Metatrader Directory

/ Strokovnjaki / kazalniki /
Začnite ali ponovno zaženite Metatrader odjemalca
Izberite Chart in časovni okvir, kjer želite, da preizkusite svoje indikator
Iskanje "Kazalniki meri" V vašem Navigator večinoma ostane v vašem Metatrader Client

Right click on Dots.mq4

Pritrdite na grafikonu
Spreminjate nastavitve ali pritisnite OK

Indicator Dots.mq4 is available on your Chart
How to remove Dots.mq4 from your Metatrader 4 Graf?
Izberite Chart, kjer je kazalnik teče v vašem Metatrader Client
Z desnim gumbom kliknite v sliki
"Seznam kazalniki"
Izberite znak in izbrisati
MT4 Kazalniki Prenesi spodaj: