Tlhaloso:

4Sessions v2.3
Shows 4 sessions: Pacific, Asian, European, American.Litlhophiso:

Winter=2

(

UTC+2=EET

)

Summer=3

(

UTC+3=EET

)
The difference between the mt server's timezone and UTC. By default the mt server's timezone is EET (UTC+2=EET (winter), UTC+3=EET (summer). You'll have to change the settings depending on your broker's time. E.g. if it's CET you'll have to set:
Winter=1

(

UTC+1=CET

)

Summer=2

(

UTC+2=CET

)
The indicator automatically adjusts itself for DST.

AsiaDesc = "Asia"; Session name
AsiaColor = Aqua; Session color
AsiaOpen = "00:00"; Session open time(UTC timezone)
AsiaClose = "09:00"; Session close time(UTC timezone)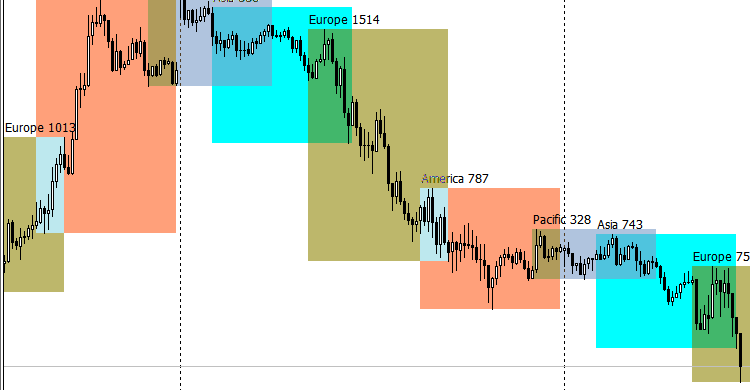 MT4 Indicators – Download Instructions
4
Sessions is a Metatrader
4 (MT4) gage le mozindo ya forex gage ke ho fetola bokeletseng histori ya data. 4
Sessions provides for an opportunity to detect various peculiarities and patterns in price dynamics which are invisible to the naked eye
.
Thehiloeng ho tlhahisoleseding ena, bahoebi ka nahana ka ho eketsehileng theko metsamao ya mmele le fetola ba bona ba leano ka ho loketseng.
Mokhoa oa ho kenya 4 Sessions.mq4?
Download 4

Sessions.mq4

kopi 4

Sessions.mq4 to your Metatrader Directory

/ litsebi li / matshwao a /
Qala kapa restart hao Metatrader Client
, Kgetha Chate le Timeframe moo o batla ho leke hao gage
Search "Custom Indicators" ya hao Navigator boholo tloha ya hao Metatrader Client
Letona tobetsa 4

Sessions.mq4

Hokela ho chate e
Ho fetoloa di-setting kapa tobetsa ok,
pontshi 4

Sessions.mq4 is available on your Chart
Tsela ea ho tlosa 4 Sessions.mq4 from your Metatrader 4 Chate?
Khetha Chate moo e ea Indicator matha ya hao Metatrader Client
Tokelo ya tobetsa ka Chate
"Matshwao a lethathamo"
Khetha Indicator le hlakola
MT4 Indicators Download mona ka tlase: