Real författare:
TrendLaboratory
Prickar Indikatorn baseras på en indikator utvecklad av TrendLaboratory i 2006. The indicator shows current trend direction by placing colored dots on the main chart. Blue dots indicate an uptrend, red dots indicate a downtrend.
Although the indicator calculation is not based on standard MetaTrader platform indicators, it uses the iMA (Glidande medelvärde) function to get prices of a specified type (Öppen, Stänga, Maximum, Minimum, Typical etc.). The calculation is based on cosine of a price change angle. The user can set several input parameters.
ingångs Parametrar:
Length

(som standard = 10)

— indicator period

.

The higher this value

,

the higher the time lag

,

and the fewer false signals are displayed

.

AppliedPrice

(

by default = PRICE_CLOSE

)

— price type to use in calculations

.

Filter

(som standard = 0)

— useful parameter allowing to filter price surges without adding display lags

.
Avvikelse (som standard = 0)

— vertical indicator shift

.
Flytta (som standard = 0)

— horizontal indicator shift

.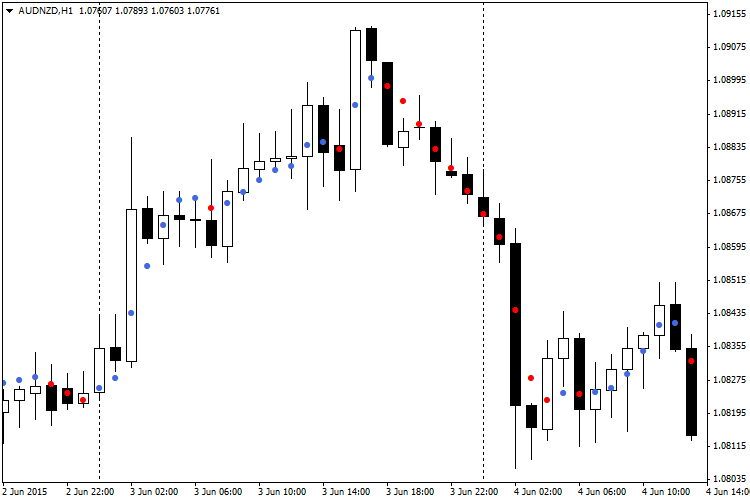 rekommendationer:
Recommended strategy is to wait for

2

identical dots and open positions by trend

.

Unfortunately

,

sometimes it fails

.

A suitable alternative would be to use one dot as a signal with Filter parameter set as Spread x

3.
MT4 Indikatorer – Nedladdningsinstruktioner
Dots is a Metatrader
4 (MT4) indikator och kärnan i forex indikator är att omvandla den ackumulerade historia uppgifter.
Dots provides for an opportunity to detect various peculiarities and patterns in price dynamics which are invisible to the naked eye
.
Baserat på denna information, handlare kan anta ytterligare prisrörelser och anpassa sin strategi därefter.
How to install Dots.mq4?
Download Dots.mq4

Copy Dots.mq4 to your Metatrader Directory

/ experter / indikatorer /
Starta eller starta om Metatrader klient
Välj Diagram och tidsram där du vill testa din indikator
Sök "Anpassade Indikatorer" i Navigator oftast kvar i din Metatrader klient

Right click on Dots.mq4

Bifoga till ett diagram
Ändra inställningar eller tryck på ok

Indicator Dots.mq4 is available on your Chart
How to remove Dots.mq4 from your Metatrader 4 Diagram?
Välj Diagram där indikatorn körs i din Metatrader klient
Högerklicka i diagram
"Lista Indikatorer"
Välj Indikator och radera
MT4 Indikatorer Hämta nedan: