Usable across timeframes, the traditional tick tack toe trading approach in visual form on your charts.
Thank you for reading this post, don't forget to subscribe!
The tick-tack-toe method has been used by American traders since 19th century.
The special features of the tick-tack-toe method consist in that no timeline stability is kept.
In the MT 4 window, new price bars appear continuously, but the tick-tack-toe indicator doesn't move if the price hasn't exceeded the threshold value. This is why the indicator chart doesn't match with the price chart shown in MT 4 screens.
In this present version of the indicator we:
– added generation of trade alerts – signs directed up or down that appear in the development of price movements at each calculation step of the indicator;
– added Alert.
Special Features:
Trade alerts are not calculated on history, since it would be difficult to judge about the correctness of placing the trade alerts if the indicator moves out of synchronization with the price movements.
At the same time, "historical" alerts are not of great importance for trading.
This is why you should also test the trade alerts in the Strategy Tester.
Testing:
Launch the indicator together with any EA in the Strategy Tester of the client terminal.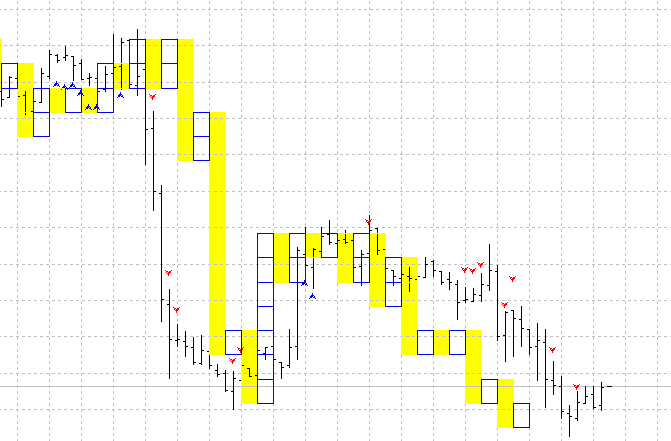 MT4 Indicators – Download Instructions
[post-title] is a Metatrader 4 (MT4) indicator and the essence of the forex indicator is to transform the accumulated history data.
[post-title] provides for an opportunity to detect various peculiarities and patterns in price dynamics which are invisible to the naked eye.
Based on this information, traders can assume further price movement and adjust their strategy accordingly.
How to install [post-title].mq4?
Download [post-title].mq4
Copy [post-title].mq4 to your Metatrader Directory / experts / indicators /
Start or restart your Metatrader Client
Select Chart and Timeframe where you want to test your indicator
Search "Custom Indicators" in your Navigator mostly left in your Metatrader Client
Right click on [post-title].mq4
Attach to a chart
Modify settings or press ok
Indicator [post-title].mq4 is available on your Chart
How to remove [post-title].mq4 from your Metatrader 4 Chart?
Select the Chart where is the Indicator running in your Metatrader Client
Right click into the Chart
"Indicators list"
Select the Indicator and delete

MT4 Indicators Download below: