Sharing this trend indicator made by me. Called "Timeframe Flow".
Thank you for reading this post, don't forget to subscribe!
It will draw a user defined higher time-frame candle on every shift on your current time-frame.
Meaning you can have H4, H12 or D1 candles on every shift of your H1 Charts.
Or you can have D2, D3 or D5 candles on every shift of your Daily Charts.
Combined with the current time-frame ATR Bands, you have a trend indicator with some filter.
You may also use the Mid Line crosses as exit( Calculated using Higher timeframe candles displayed in the indicator(Close + Open)/2 ).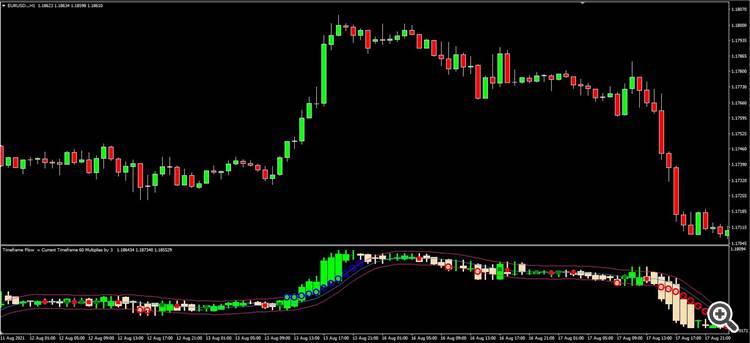 MT4 Indicators – Download Instructions
Momentum is a Metatrader 4 (MT4) indicator and the essence of the forex indicator is to transform the accumulated history data.Subway provides for an opportunity to detect various peculiarities and patterns in price dynamics which are invisible to the naked eye.
Based on this information, traders can assume further price movement and adjust their strategy accordingly.
How to install the software?
Download the mq4 file from the zip file.
Copy the mq4 file to your Metatrader Directory / experts / indicators /
Start or restart your Metatrader Client
Select Chart and Timeframe where you want to test your indicator
Search "Custom Indicators" in your Navigator mostly left in your Metatrader Client
Right click on the mq4 file.
Attach to a chart
Modify settings or press ok
Indicator should be available on your Chart
How to remove tim.mq4 from your Metatrader 4 Chart?
Select the Chart where is the Indicator running in your Metatrader Client
Right click into the Chart
"Indicators list"
Select the Indicator and delete
MT4 Indicators Download below: