Puts trend data into an easy to visualise bar. Blue is up, red is down. Works on any time frame.
Thank you for reading this post, don't forget to subscribe!
Trend indicator with a multitude of settings. Displays the direction (red) and strength (blue) of the trend as a two-colored histogram. The main signals are the crossing of the zero line, reaching a new high/low, divergence.
If the red graph is greater than zero and grows – go bullish (if at the same time the blue graph is less than zero and falls – the uptrend is getting stronger)
If the red graph is less than zero and falls – go bearish (if at the same time the blue graph is greater than zero and grows – the downtrend is getting stronger)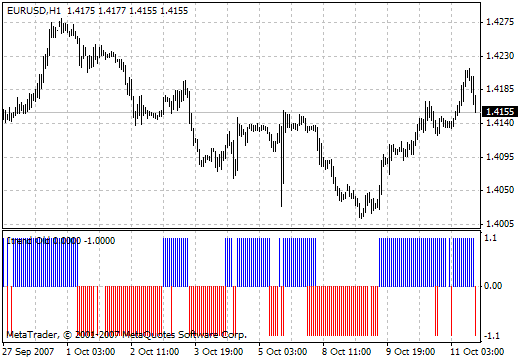 Common parameters – parameters that affect both lines:
"Apply to". The basis for the indicator calculation. In this case it is the price – Close, Open etc.
Parameters of the trend direction line (red line). The trend direction in the iTrend is calculated based on the Bollinger Bands technical indicator, and therefore the iTrend trend direction has the same settings as Bollinger Bands:
"Mode". Specifies the Bollinger Bands line to use in the calculation of the iTrend: Main, Top or Bottom.
"Period". The period of the iTrend indicator
"Deviation". The deviation of the iTrend indicator
Parameters of the trend strength line (blue line). The line of the trend strength in the iTrend is calculated based on the technical indicators by Alexander Elder – Bears Power and Bull Power
"Period". The of the iTrend trend line.
MT4 Indicators – Download Instructions
Traditional Trend is a Metatrader 4 (MT4) indicator and the essence of the forex indicator is to transform the accumulated history data.
Traditional Trend provides for an opportunity to detect various peculiarities and patterns in price dynamics which are invisible to the naked eye.
Based on this information, traders can assume further price movement and adjust their strategy accordingly.
How to install Traditional Trend.mq4?
Download Traditional Trend.mq4
Copy Traditional Trend.mq4 to your Metatrader Directory / experts / indicators /
Start or restart your Metatrader Client
Select Chart and Timeframe where you want to test your indicator
Search "Custom Indicators" in your Navigator mostly left in your Metatrader Client
Right click on Traditional Trend.mq4
Attach to a chart
Modify settings or press ok
Indicator Traditional Trend.mq4 is available on your Chart
How to remove Traditional Trend.mq4 from your Metatrader 4 Chart?
Select the Chart where is the Indicator running in your Metatrader Client
Right click into the Chart
"Indicators list"
Select the Indicator and delete

MT4 Indicators Download below: