It puts the value of the market onto your chart in any time frame.
Thank you for reading this post, don't forget to subscribe!
The Value Chart could be described as a DeTrended Oscillator in which the higher or lower the value on the Value Chart the more likely it is to reverse direction.
Unlike other Value Chart Indicators you may be able to find there has always been one huge problem with it and that was that it really taxed the terminal by deleting and creating ALL Value Chart Bars on Every Tick. This Indicator does not have that issue so it will not tax your Terminal.This indicator updates only the Value Chart Bars that have changed. So you are free to put it on multiple charts.
Additional features:
Adjustable Value Chart Bar and Wick Color, Bar and Wick Width, Adjustable overbought and oversold area and color, Built in Alert and alert levels.
You WONT find anything else like this and best of all I'm giving it away.
This indicator works on any standard timeframe.
This indicator is not designed to be traded alone in fact it works great as an addition to an existing strategy. For example using the Value chart with the Zero Lag Stochastic set to 5,3,3. If you don't have Zero Lag Stochastic you can use a standard stochastic set to 3,3,5. when the Stochastic crosses above the 80 level and the Value chart is between 8 and 10 consider a sell or if the stochastic is crossing below 20 and headed up and the Value Chart is between -8 and -10 then consider a buy. I trade 60s Binary options with this strategy and it works great.
Input parameters:
extern int NumBars=5;
extern color Bullish_Color=LimeGreen;
extern color Bearish_Color=Red;
extern color Actual_Color=Yellow;
extern string Note0="**** VC Bar Width ****";
extern int Wick=2; * The width of the VC Candle Wick
extern int Body=6; * The width of the VC Candle Body
extern string Note1="**** OB/OS Levels ****";
extern int OBHigh_Upper=12; * Top of the OverBought Area
extern int OBHigh_Lower=8; * Bottom of the OverBought Area
extern int OSLow_Upper=-8; * Top of the OverSold Area
extern int OSLow_Lower=-12; * Bottom of the OverSold Area
extern string Note2="**** OB/OS Level Colors ****";
extern color OBHigh_Color=C'255,164,177′; * OverBought Area Color
extern color Normal_Color=C'5,116,5′; * Normal Area Color
extern color OSLow_Color=C'255,164,177′; * OverSold Area Color
extern string Note3="**** Alert Settings ****";
extern bool useAlerts=false;
extern int NumLevels=4;
extern int level1=10;
extern int level2=-10;
extern int level3=11;
extern int level4=-11;
extern int level5=10;
extern int level6=-10;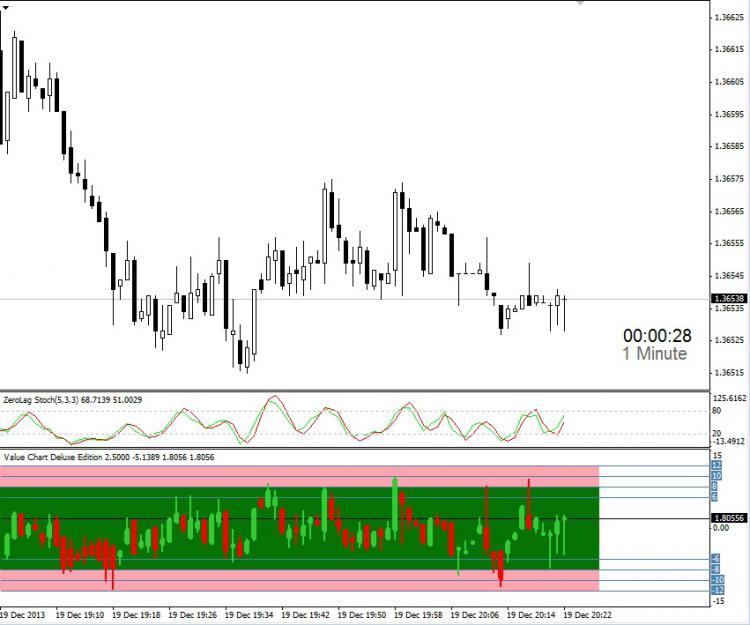 Recommendations:
Quick Strategy:
Use a Keltner Channel with default setting
Stochastic 5,3,3 (Preferably Zero Lagg)
Value Chart Deluxe Edition (Default Settings)
MT4 Indicators – Download Instructions
Value Chart is a Metatrader 4 (MT4) indicator and the essence of the forex indicator is to transform the accumulated history data.
Value Chart provides for an opportunity to detect various peculiarities and patterns in price dynamics which are invisible to the naked eye.
Based on this information, traders can assume further price movement and adjust their strategy accordingly.
How to install Value Chart.mq4?
Download Value Chart.mq4
Copy Value Chart.mq4 to your Metatrader Directory / experts / indicators /
Start or restart your Metatrader Client
Select Chart and Timeframe where you want to test your indicator
Search "Custom Indicators" in your Navigator mostly left in your Metatrader Client
Right click on Value Chart.mq4
Attach to a chart
Modify settings or press ok
Indicator Value Chart.mq4 is available on your Chart
How to remove Value Chart.mq4 from your Metatrader 4 Chart?
Select the Chart where is the Indicator running in your Metatrader Client
Right click into the Chart
"Indicators list"
Select the Indicator and delete

MT4 Indicators Download below: